All Rights Reserved. Anne Morse-Hambrock ©2009 | Website Designed by Ventura's Graphic Design & Photography

Now Accepting All Major Credit Cards for playing services! (Use PayPal Button Below)
Packages and Discounts:
I offer discounts and bundle pricing when you book both your wedding ceremony and reception. Be sure to mention your interest in this when I give you your personalized quote.

​​​​​​
WEDDING CEREMONIES

:
I am prepared to play part or all of your wedding ceremony. I play primarily as a soloist but can work with other musicians as required. Because of its portability and depth of sound, harp is often a wonderful choice, especially if the venue of your ceremony has no electricity (rose gardens etc.) or no organ or piano available (hotel ballrooms etc.)

​Included in the price of all wedding ceremonies is a consultation to select the ceremony music. This consultation can be in person at my home or over speakerphone if a personal meeting is not feasible.
Located on the left side under the menu are some samples of music popularly played at weddings. I also offer many unusual selections unique to me which is why a personal consultation is always optimum.
WEDDING RECEPTIONS AND PARTIES:
I am available to play background music during wedding receptions and private parties. The best times to use harp at a wedding reception is typically during cocktails, dinner, or both. Frequently a client will have me play cocktails and dinner and then turn the evening over to a DJ or band after dinner.
I also play private parties such as anniversaries and birthdays, both in large ballroom type venues and in private homes.
My repertoire for such background playing consists of a broad mix of classical, pop, jazz and celtic. Generally there is something for everyone!
For parties over 50 people I use amplification which I carry with me for such occasions.
*
Requirements for outdoor playing: Harps are very expensive instruments and are easily damaged by extreme cold or heat. For this reason they must not be subjected to harsh direct sunlight or temperatures below 68 degrees F or above 90 degrees F. If your wedding or party will be outdoors, a backup plan for inclement weather must be in place. I am happy to discuss outdoor playing when issuing a personalized quote.
Canon In D - J. Pachelbel




Andante - J. Parry




Prelude in C - J.S. Bach




Wedding March - R. Wagner




Trumpet Voluntary - J. Clarke




Jeanne's Rondeau J. Mouret




Aquatint no. 4 - B. Andres




Concerto- G.F. Handel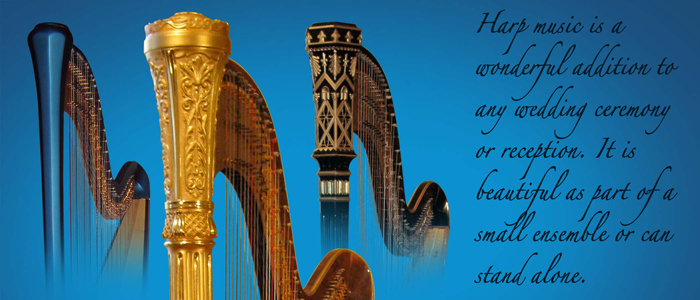 WHERE I PLAY:


The geographical area in which I play weddings and parties is primarily Southeast Wisconsin and Northeast Illinois. As a recitalist, I will generally travel to any location at which there is an interest. Below are listed a few of the venues at which I play frequently.



Illinois:



Illinois Beach Resort, Illinois Beach, IL
Midlane Country Club, Wadsorth IL



Wisconsin:



Lakelawn Resort, Delevan WI
Grand Geneva, Lake Geneva WI
Roma Lodge, Racine WI
Kemper Center, Kenosha WI
Dekoven Center, Racine WI
Parkway Chateau (aka Brat Stop) Kenosha WI
Radisson Hotel, Pleasant Prairie WI
Radisson Hotel, Racine WI
Wolfenbuttel Park, (On the Lake Michigan Shoreline) Kenosha, WI
Wustum Museum Gardens, Racine WI
Save
Save